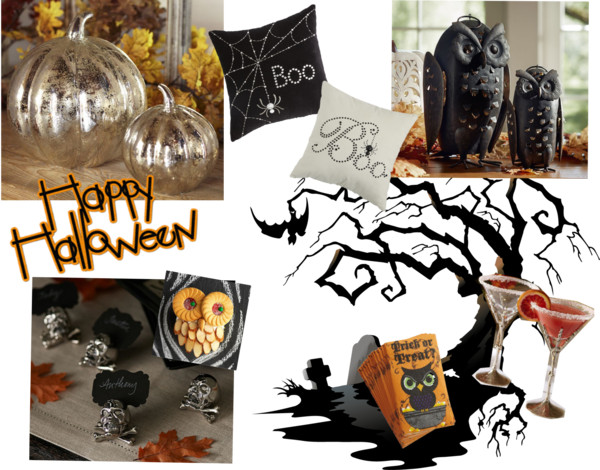 Pillows, Owl Napkins, & Owl Decoration from Pier One  |  Pumpkin Decorations, Skull Placeholders, & Skull Martini Glasses Pottery Barn
Both stores have everything either on clearance or at huge discounts.
Next Friday is Halloween!   So, I imagine everyone is getting ready for all the festivities that will take place.  This year I'm really into owls, as you can tell by my selections above.  They give a spooky look without being too creepy.  I honestly get a little scared with too many skulls and the like.  One fact about me, I do not watch horror movies and I don't go to haunted houses.  Even though I know it's all fake, I get terrified.
I'll share a silly dating story with you.  Mike, my husband, wanted to take me to a movie while we were still dating.  He asked me what types of movies I liked.  I responded with the usual…romantic comedies, action, science fiction, etc.  There was one exception, horror movies!  I told him I did not watch horror movies and I tried to stay away from them.  He proceeded to tell me that he wanted to watch this thriller that was going to be fantastic.  What movie do you think he was talking about?  Saw!  I was so naïve in believing that it was a thriller.  I guess I didn't think that one through fully.  Well, in the first opening scene of the movie this woman gets mutilated in most repulsive way I can think of.  I actually sat through the entire gory and gruesome movie!  And, at the end I wasn't mad at him.  I was happy that he was able to enjoy the film, and that I was able to sit through it without peeing in my pants.  He really forced me out of my comfort zone.  Well, fast forward about 7 years, we haven't watched too many more horror films.  And, we are still happily married.  I do occasionally compromise and watch movies that make me cover my eyes every few minutes.  In turn, he watches Pride & Prejudice and The Holiday over and over and over and over again.  Poor guy, he has seen those movies so many times I think he can quote them verbatim.  What's even funnier is that every time he pronounces the name Amanda, he does it with a British accent just like Jude Law in The Holiday.
I hope everyone has a fun time preparing for Halloween!