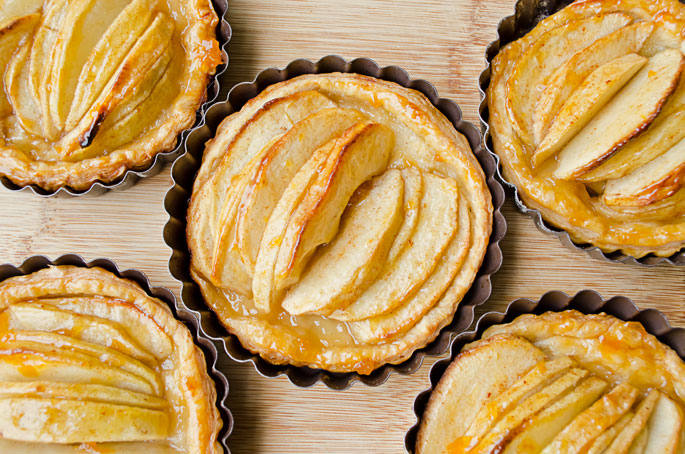 I cannot believe that November is already here! It marks the beginning of my favorite time of year. It's the time of year that my cooking and baking skills get a work out. It all started a few years ago when we started having Thanksgiving at my house. This year will be no different. So, I'm starting to test a few recipes now. I wanted to start with an apple dessert of some sort, but didn't want to make the classic apple pie. Truth be told, I wanted something easier and faster. This apple tart recipe is just that! It is a simple, quick no fail recipe.

Ingredients
4 granny smith apples 
1 cup of sugar
1 teaspoon ground cinnamon
1/2 teaspoon ground nutmeg
a pinch of ground cloves (optional)
a pinch of salt
1 package of puff pastry sheets
1/4 stick butter
3 to 5 tablespoons of apricot jam or preserves
flour (for rolling out puff pastry)
Directions
Thaw both puff pastry sheets per instructions on the box.
Pre-heat oven to 400 degrees.
Peel and slice apples.
Combine apples with sugar, cinnamon, nutmeg, salt, and cloves.
Roll out both puff pastry sheets and cut to fit into tart pans.
Baste tart pans with a small amount of butter, then place puff pastry into each, and score a circle into the puff pastry (as shown above).  Be careful not to go all the way through to the bottom, this is a light cut.
Arrange apples onto each tart pan, and top with any remaining cinnamon sugar mixture.
Top each with three small cubes of butter (as shown above).
Bake for 40-45 minutes.
Warm apricot jam and baste tops of tarts right after removing from oven.
Makes about 10 apple tarts.
SHOP THE POST
---
---
I hope you enjoy making this for one of your upcoming family gatherings.  I definitely cannot wait to make it for my friends and family.
Enjoy!  Buen Provecho!
xo, Maria