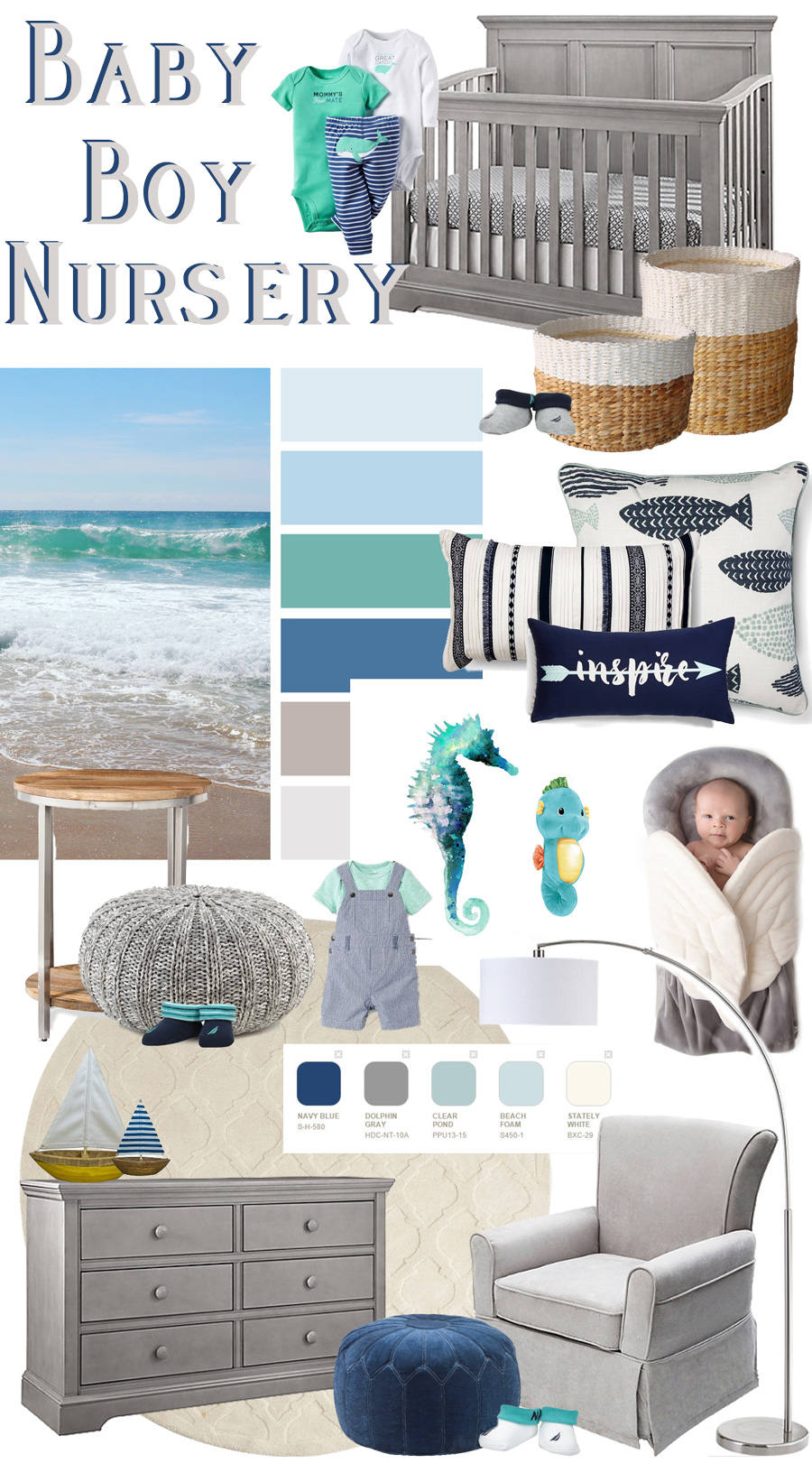 Great Catch Body Suit Set // Crib // Baskets // Fish Pillow // Stripe Pillow // Inspire Pillow // Seahorse Toy // Overalls & Tee // Wing Shaped Baby Wrap // End Table // Knit Pouf // Baby Socks // Wooden Boats // Rug // Dresser // Floor Lamp // Glider Chair // Navy Pouf
I am obsessed with the design and planning of the nursery right now. I've already picked a nautical theme for our sweet baby boy. The major items, such as a crib, dresser, and gliding chair have already been picked out. To help keep me organized with the design process, I've started a registry at three different locations that includes everything from furniture to clothing to decor items to baby necessities. I spent an entire day going over all three registries. I chose paint colors, and sized up the guest bedroom that will be converted into the nursery. I'm exhausted!
Once the walls are painted, and the main furniture is moved in, I'll be tackling all the little things. The small touches that bring continuity to the room will be things like crib sheets, pillows, and small decorative items. I already have a similar seahorse watercolor painting that I found while on vacation in Sarasota. It became a jumping off point for the whole room. I love the colors, and it was inspiration for this color palette. The cool colors of the sea. What's more relaxing than watching and listening to the sounds of beach waves and ocean breezes?
SHOP THE POST
I hope that you can imagine these beautiful tropical colors in one of your rooms. I've thought about the colors, and the furniture, and how I can transition everything through the years. The chair, poufs, baskets, end table, and pillows are all items that can be transitioned as the baby grows older. Or, it can be used in other rooms of the house. They are very neutral, yet stylish, pieces that aren't locked into the baby's room. Even the larger pieces of furniture can be re-purposed. The crib can convert to a toddler bed and/or into a full-sized bed. The dresser is also very neutral, and can be used in any room of the house.
The room will be complete (baby-fied) when I add baby toys, portraits on the wall, and a possible teepee pillow fort in one corner. I think that stuffed animals and a teepee pillow fort will definitely soften the design of the room to make it perfect for my little baby boy. I'm in love with all these ideas, the journey into motherhood, and I can't wait to share more. xo, Maria