Stretch Marks seem like an unavoidable issue for all of us as they can occur at different points in our lives. They happen usually during growth spurts, rapid weight gain/loss, and pregnancy. It is definitely something I've been fearful of during my pregnancy. But, truth is that I, like most people, have already acquired a few. I've had weight gain and loss that resulted in a few of these pesky lines. I just don't want anymore of them and I want to get rid of the ones I have. I'm six months along and so far so good (knock on wood!!!). Let's just say that I've tried a few creams and treatments. While I'm still searching for the absolute perfect combination, if there is such a thing, I thought I'd share my favorites. These are the 8 products that I'm currently using to prevent, treat, and get rid of stretch marks.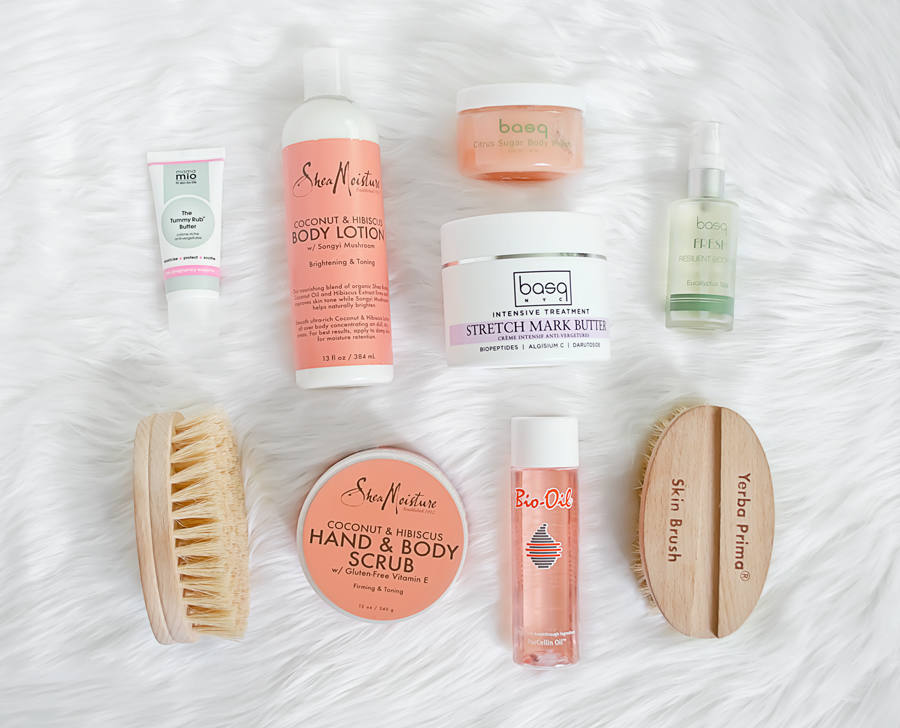 Exfoliation is so important in skin care. Sloughing off dead skin cells helps to speed up the skin renewal process. The process leaves your skin brighter, smoother, and softer. So, having something to exfoliate your skin is very important when talking about stretch marks. I have a small container of this Basq Citrus Body Polish, and use it in the shower occasionally. Since I only have a little bit & it is on the pricey side I don't use it that much. The smell is fabulous, it is a mild citrus scent. Very invigorating! The body polish isn't as oily or greasy as some body polishes, and it suds up a little when you work it into your skin.
I really like all the Basq products I have. For Christmas I received an essentials kit from my husband (he is so sweet). So, I have small versions of this oil, the stretch mark butter, and the body polish. This body oil comes in three different scents; citrus, lavender, and eucalyptus. I have the eucalyptus scent, and I think it is a little strong. My sense of smell is very heightened right now, so this may not be a fair judgement. But, the oil itself it wonderful. I mix it with other lotions just to cut the smell a little and save on time. It is not as greasy as most body oils I've tried, which is wonderful. Who wants to feel like a greasy mess after they've showered? Not this girl! While this body oil is a little on the pricey side, I do think that the essentials kit is worth a try. The combination of all the basq products have truly helped to keep stretch marks at bay as my belly has grown and grown and grown.
This is by far my favorite of the three Basq products. Once I used up the small version I had from the essentials kit, I bought another big jar of it. The consistency of the cream is very nice, not too greasy. The smell is also mild. That is a huge plus for me because my sense of smell is so heightened because of pregnancy.  Overall, it just leaves my skin feeling very moisturized and soft. This may sound weird, but it feels more elastic and pliable. I'm using it all over my belly and on my old stretch marks. My old stretch marks have faded considerably, and I think this body butter has been a big contributor.
People rave about this oil. Is all the hype really true? I think the jury on that one is still out for me. I do think it is a great body oil, and does moisturize very well. However, the one thing I don't like about it is that if you apply too much it leaves a greasy mess. So, a little goes a long way! I mix it with other lotions so that it cuts the greasiness. When I wasn't pregnant it didn't have much of a smell. But, now that I can super smell, I can smell the mineral oil in it. I would prefer it if didn't contain any mineral oil at all, but the price point compared to the Basq oil is more reasonable.
Dry brushing is the one step that has really helped the stretch marks I already have. This type of exfoliation was really tough for me to get into at first. My skin is sensitive, and I never liked the harshness of the bristles. I think my problem was that I was way too rough, and applied too much pressure. Using less pressure and spacing out treatments has really changed my mind about this technique of exfoliation. I try to dry brush about twice a week, and then apply a mixture of lotion and oil right after. I just softly brush my skin in upward motions. It has truly made a big difference in the look and texture of my existing stretch marks.  I have two of these brushes, and they've worked very nicely.
I have a small tube of this tummy butter that I bought as a part of a travel kit. I think that this tummy butter is very nice, but I still prefer the Basq version. The two are comparable in price, this one being slightly less expensive. I think the Basq is more hydrating and smells better, but that might just be personal preference. When I've been to A Pea in the Pod, Destination Maternity, and read reviews online the Basq gets the most hype. I think this one is in close second, definitely one to try out because everyone's skin is different.
I am in love with the smell of this stuff. Seriously. L-O-V-E. Using a body scrub for exfoliation to prevent, treat, and get rid of stretch marks is a must. This body scrub not only smells amazing, but it also leaves skin super soft. I love using it before I shave my legs, and I'm so amazed at how soft my legs feel afterwards. It has an oily gritty texture, but nothing too rough. My only issue with it is that I think it dissolves too quickly, where the Basq brand holds up more for longer exfoliation. But, the price point is no comparison. This is definitely much more economical, and gets the job done. I pair this with the lotion from the same line, and I feel like I'm on vacation because the smell is so tropical.
I'd been eyeing this lotion for a while because I love the smell of this line so much. It was on sale and I was out of my usual Aveeno lotion, so I picked it up. Whoa! This stuff is thick and rich. No joke. It is probably the thickest lotion I've ever used. So, that makes it for an ultra moisturizing experience. If you have really dry skin, this is the lotion for you. I like to mix it with a little body oil, and I use it after dry brushing. Talk about crazy soft skin. I also really enjoy this brand because it has no parabens, no phthalates, no paraffin, no propylene glycol, no mineral oil, no synthetic color, no DEA, no sulfates, and it does not test on animals. It makes me feels good knowing that it has none of those nasty chemicals.  They have a mommy stretch mark cream that's on my list to try next.
So, these eight products are what I'm currently using. While there are a lot of great products here, my favorites are the Dry Brush and the Basq Stretch Mark Butter. These two will definitely be staying in my routine. I have a bunch of others I've tried or on my list of things to try. You can find all eight of the products I'm using, and much more below. The key things to note are to exfoliate and moisturize using a mixture of lotion, body butter, and oil. And, lastly, to make sure you are getting the best results stay consistent with your routine.
Best Products to Prevent, Treat, and Get Rid Stretch Marks