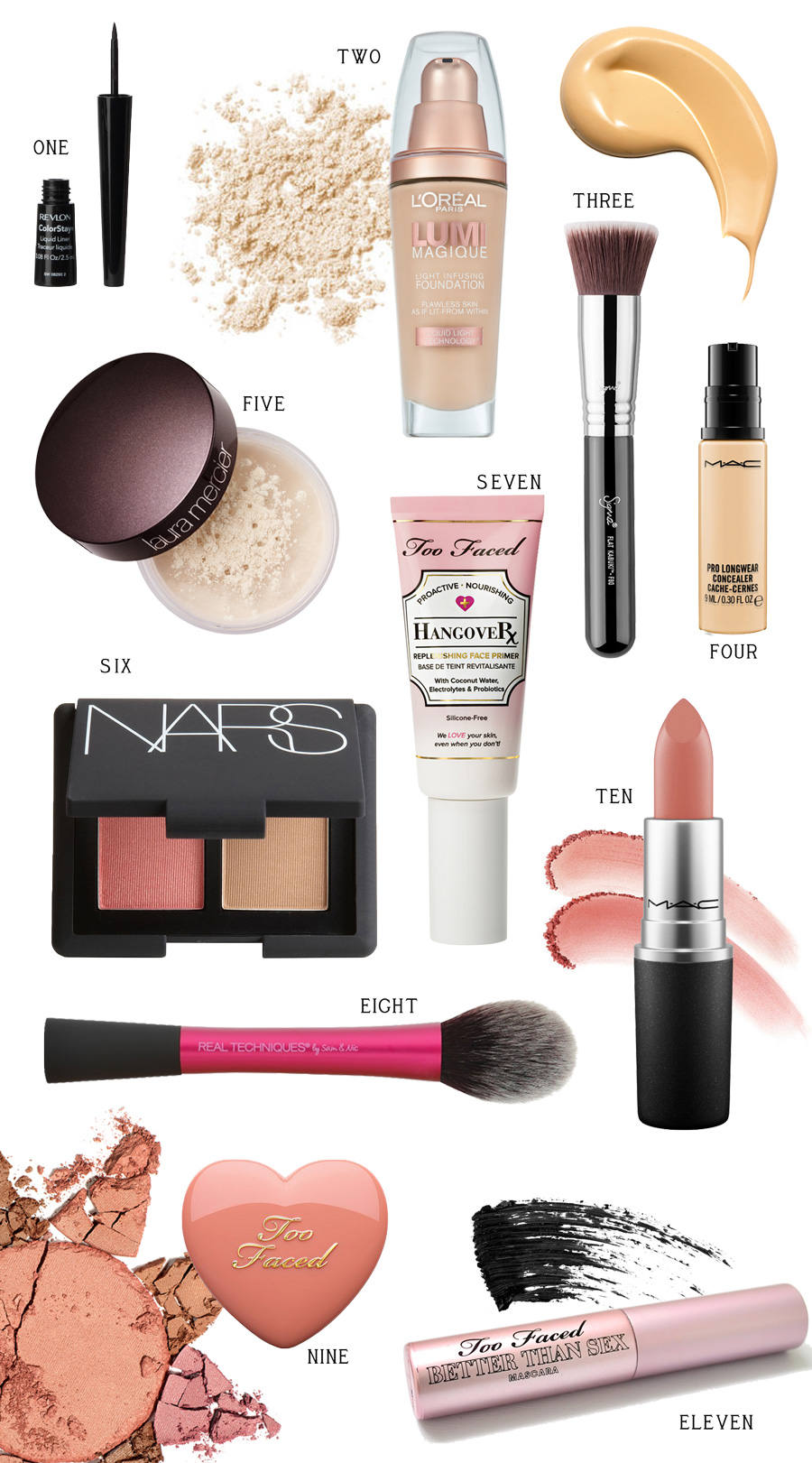 1. eye liner  //  2. foundation  //  3. foundation brush  //  4. concealer  //  5. translucent powder  //  6. blush/bronzer combo  //  7. primer  //  8. blush brush  //  9. blush   //  10. lipstick (velvet teddy)  //  11. mascara
I've been getting so many questions about makeup lately that I decided to a few beauty posts. This post is on my easy everyday makeup routine. If I'm stepping out of the house for errands or visiting a friend this is what I'll throw on.
I actually start with primer and eye liner first! I'm bad at smudging and messing up eye liner. So, putting it on first lets me clean up any unevenness with a q-tip. This is my favorite light weight foundation and my new favorite foundation brush. I cover up any spots, and I'm getting lots of them during pregnancy, with this longwear concealer (a tiny bit goes a long way). I then swipe on a bit of translucent power with this power brush. Check out my full review on why this is my favorite powder. Next is a little blush and bronzer just add a touch of color. And, finally, I finish with a little lipstick and mascara. Sometimes, gasp, I opt for no mascara. If I do use it, this one is my favorite. Be sure to check out the full review of this mascara here.
That pretty much sums up my easy everyday makeup routine. I can slap this all on quickly, I'd say in about 5 minutes I'm ready to head out. A little longer if I'm having eye liner troubles. I have a whole different makeup routine for weekends when I have a little more time to invest. Since we usually do blog pictures and go out to eat I try to glam it up a little more. I'll share that fun and fabulous routine with you in a future post. So, stay tuned! xo, Maria
SHOP MY EVERYDAY MAKEUP ROUTINE