Fashion and beauty subscriptions are one of the biggest and best ideas going around lately. I have been itching to try one out, and when I found out that Le Tote had a maternity subscription I was so excited! If you don't know what Le Tote is, they are a clothing subscription box service. They have both a regular subscription and a maternity subscription. Here is my Le Tote clothing subscription box review: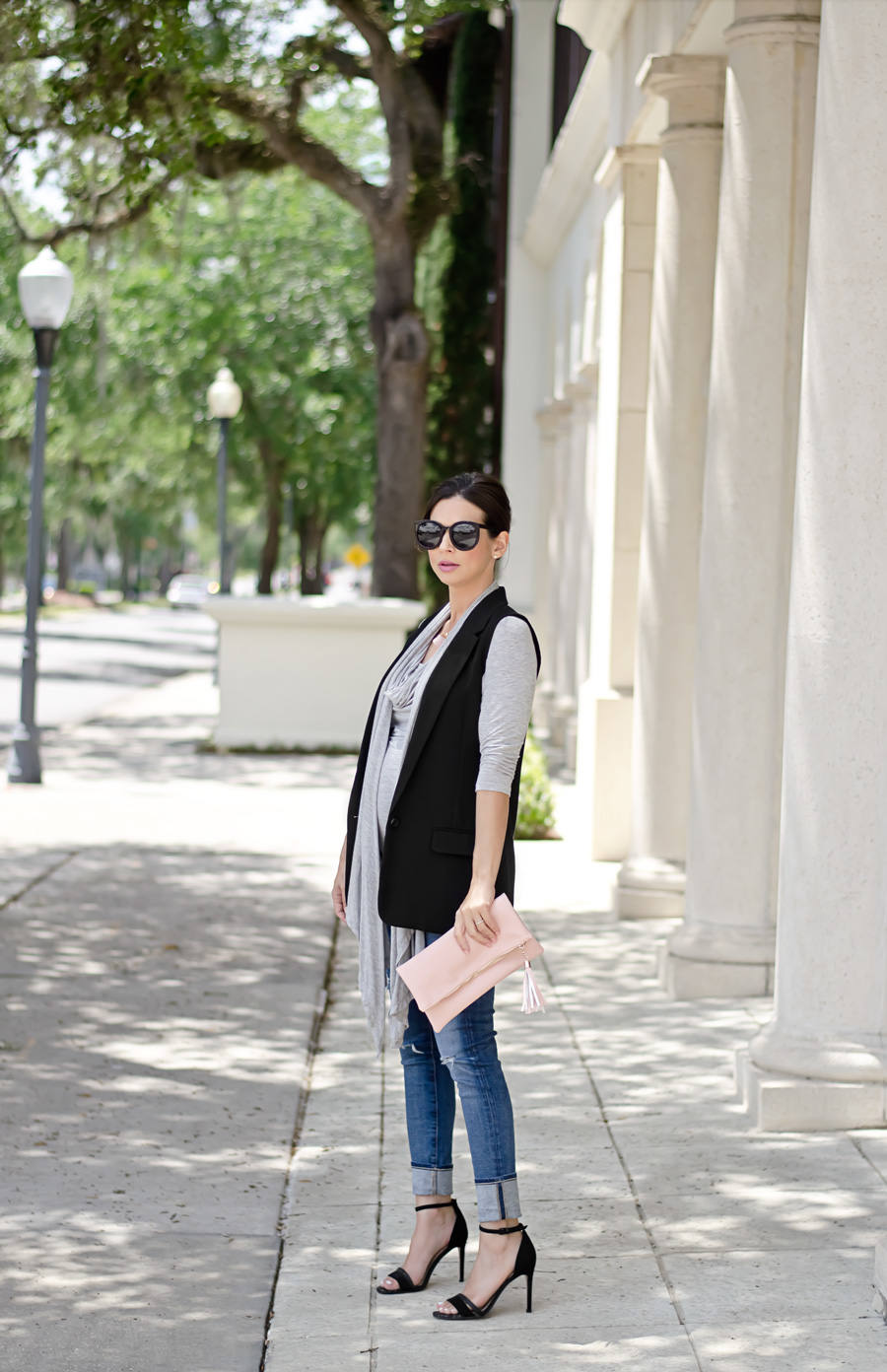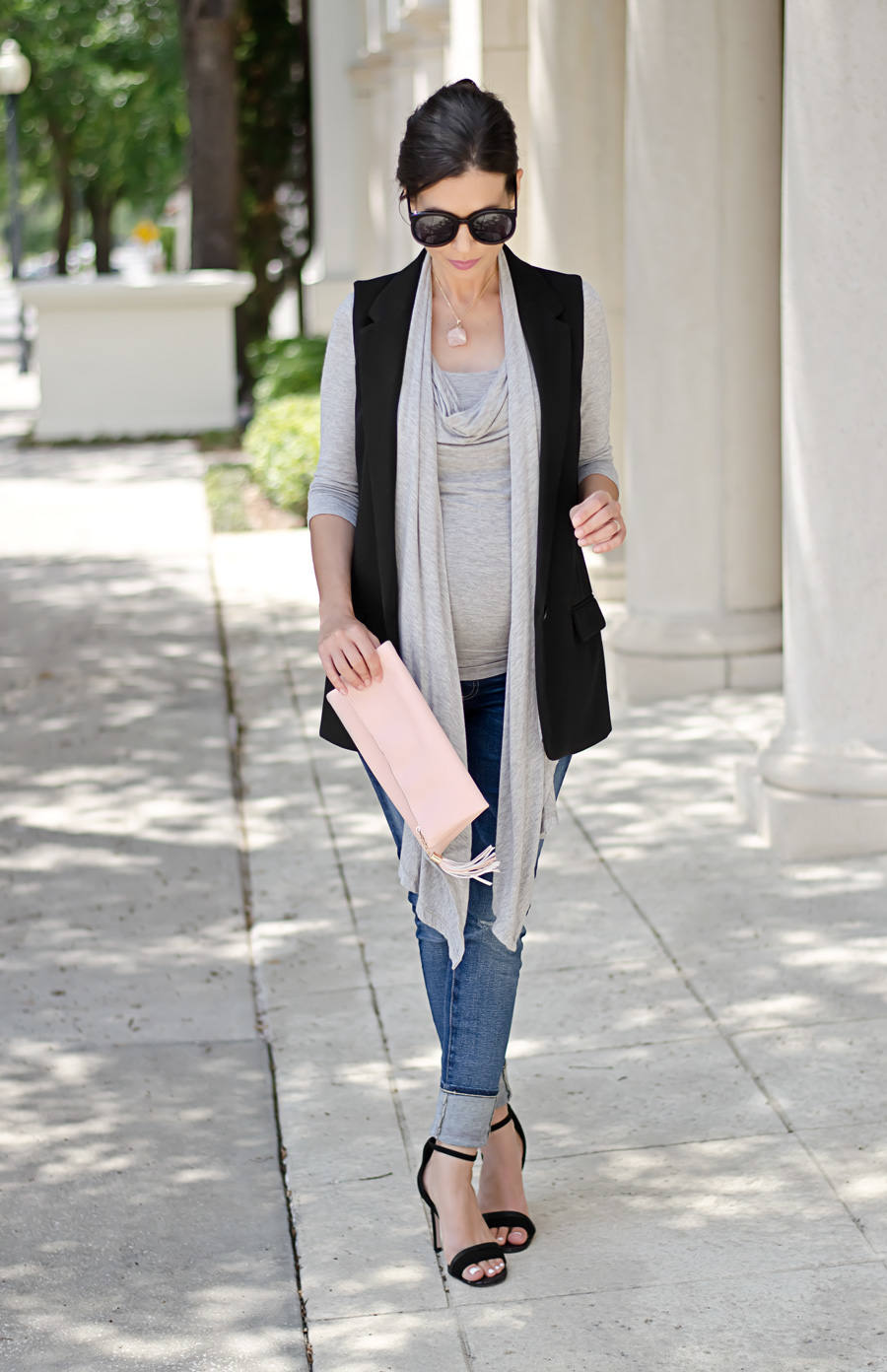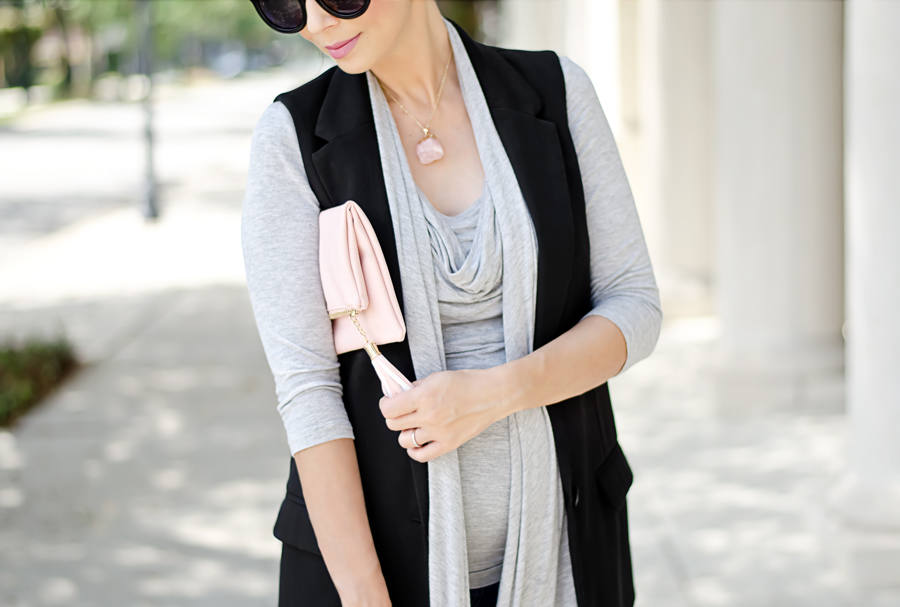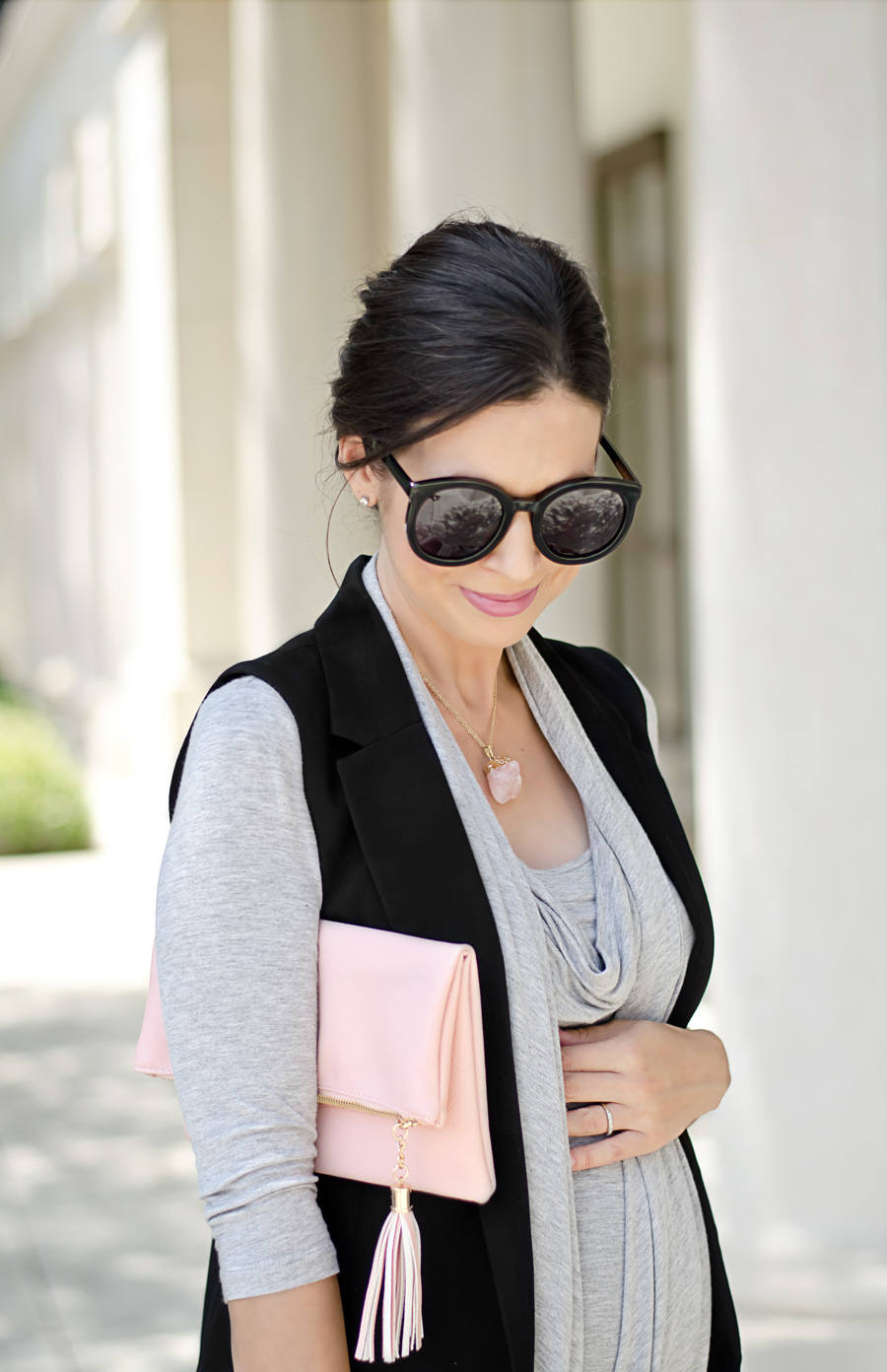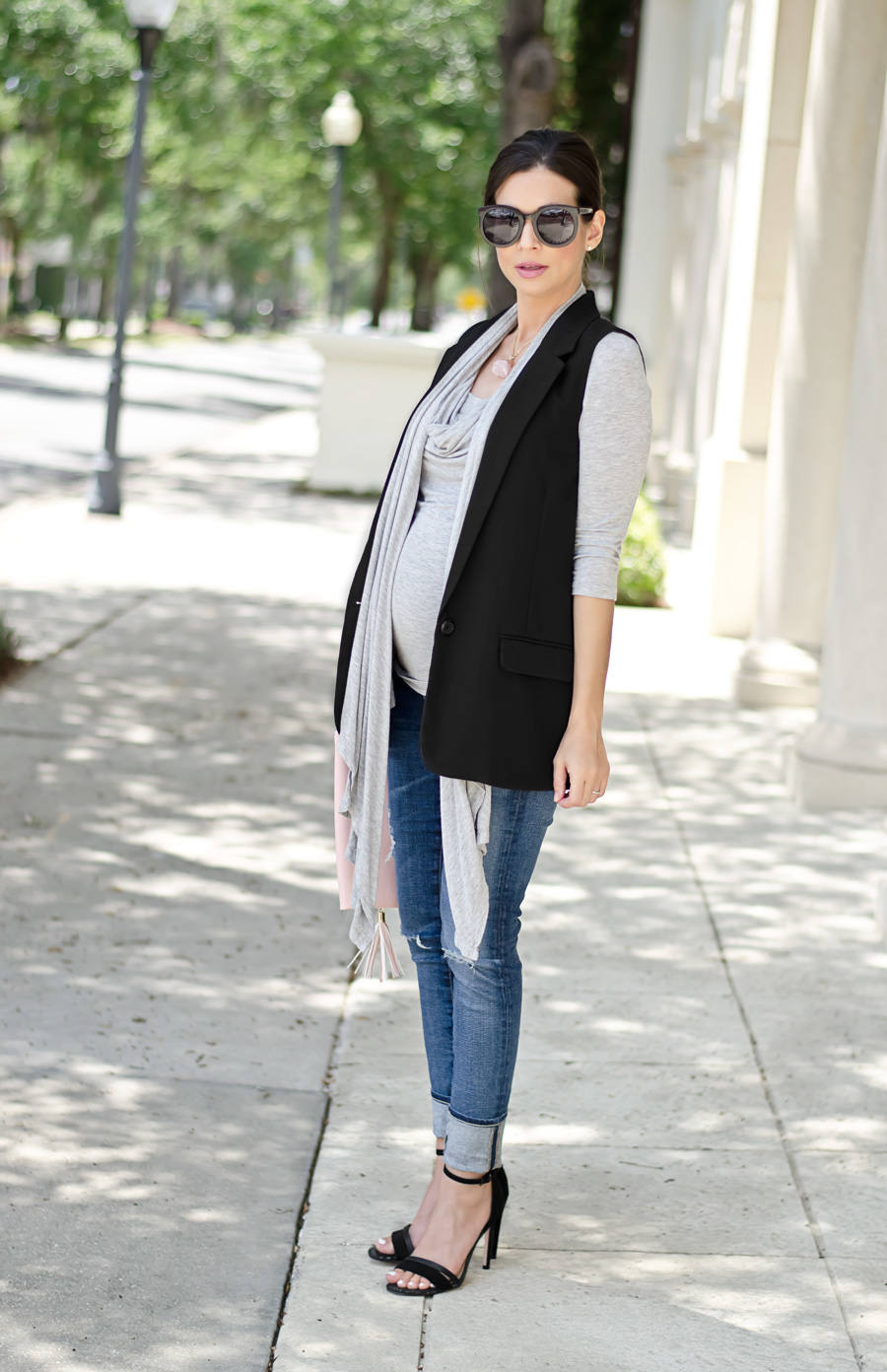 I chose to style the look pictured above with 4 of 5 the pieces I was sent; an amazing BB Dakota Vest, a soft and comfortable Mamaglo Drape Layered Top, this beautiful Camilla Druzy Pendant Necklace, and a matching Clement Blush Foldover Clutch. The fun thing is that they can all be worn together or they can be styled separately. The last piece in the box is an Urban Ma Overlay Top that is so flattering and comfortable. It really does a great job minimizing how big my belly is getting. Almost 28 weeks now and the belly expansion is in high gear right now!
I absolutely love each of the items I received in my first tote! How does Le Tote work? The process was so fun and easy. I simply filled out a size and style profile first. Then, I added my favorite items to my online closet. That is all it takes for Le Tote to learn your style, and curate your first tote. Each tote comes with 3 clothing items and 2 accessories. I've pictured each of the items received in my first box below.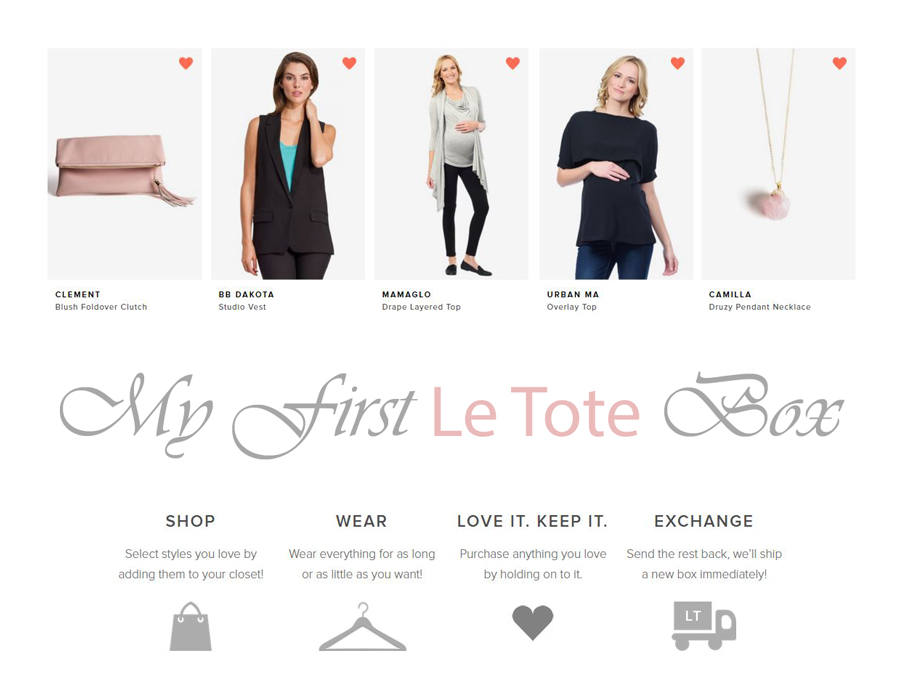 I think that Le Tote is a fantastic service that gives you access to an infinite closet of garments & accessories. It is super simple. The cost is $59/month or $69/month for a maternity tote option. Best part? You'll always have something new to wear.  You'll receive styles you love, get to wear them as long as you like, then return them when your done. Once you send back the tote, they'll send you a new tote.
You'll get to rate each of the contents of the tote, 3 garments and 2 accessories, for fit and style. Le Tote uses that information to personalize your totes so that you get the best fitting garments possible. Some other great features to note about Le Tote:
Shipping is FREE both ways
Unlimited pieces at one low price
No styling fees
You always get to customize your tote
Convenient — forget crowded malls, buyer's remorse, and poorly fitting products!
Le Tote takes care of the laundry
Love something in one of your boxes? Purchase it at up to 50% off retail prices! Just hold on to what you love and send everything else back. This lets them know that you'd like to buy it!
Le Tote is offering 20% off the first month of service to my readers with code CLASSIFIEDCHIC.
Brands: Vince Camuto, Sam Edelman, Kate Spade, French Connection, House of Harlow, BB Dakota, BCBGeneration, Max Studio, Levi's, Free People, Rebecca Minkoff and more.
Maternity Brands: Seraphine, Olian, Summer & Sage Maternity, Tart Maternity, Urban Ma, Mamaglo, and more.
*This post is sponsored by Le Tote.