This post was sponsored by Fresh From Florida as part of Influencer Activation for Influence Central.
What can I say, I love living in Florida. I love being able to drive an hour or two and reach a beautiful beach. I love constant sunshine, but also enjoy a good thunder-storm. The endless warm months makes for perfect weather to enjoy lots of outdoor activities. You can grill food outdoors almost all year round, but the warmer months is especially fun. Because what's better than grilling at the beach or poolside? Florida has so many parks, that enjoying a simple picnic for lunch is also a treat during the spring and summer. And, there are always wonderful farmers markets or fruit picking farms to wander around. So much to do, and so much to enjoy!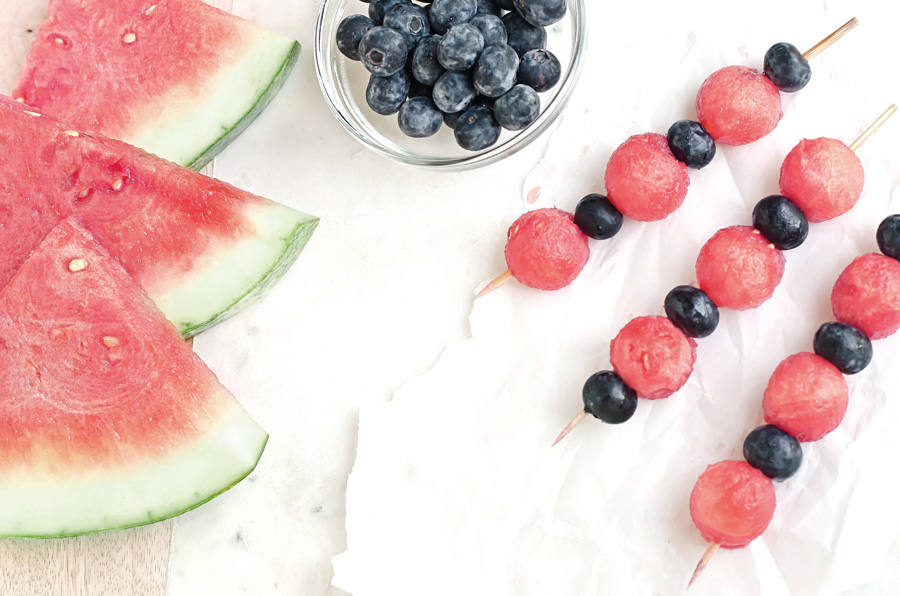 All this talk about warm weather makes me think of roasted corn on the cob, grilled seafood, and refreshing blueberry watermelon skewers. Since I've been expecting each of those are current cravings, especially the fresh fruit skewers. Being pregnant has also made me so much more aware of how shopping for locally grown ingredients is so important. Fresh From Florida fruits, vegetables, and seafood are harvested at the peak of season, which means better tasting and more nutritious foods to enjoy. Each of these delicious foods are in season here in Florida:
Blueberries
Tomato
Sweet Corn
Watermelon
Seafood

Being more health conscious has meant that I've been researching recipes and cooking often. And, Fresh From Florida and the Florida Department of Agriculture has been one of my resources for recipes, their website has some truly delicious recipes. Two of my favorites are this Tomato and Parmesan sweet Florida Corn recipe and this Shrimp Taco recipe. I also love making these easy blueberry watermelon skewers. The fact that both these types of fruits are grown locally and in season make for the juiciest, most flavorful treat! They are wonderful for picnics, barbecues, or for an easy everyday snack.
Make sure to visit www.freshfromflorida.com for information on the what is currently in season, and great recipes to help inspire you in the kitchen!
xo, Maria