The best sale of the year is here! I really look forward to the Nordstrom Anniversary Sale every year. It is a wonderful sale that is perfect for stocking up on wardrobe staples for the season to come. There are so many items on sale that it can seem overwhelming. Fear not! I'm sharing my favorites and I'm also giving some online shopping tips. Here are my picks that make the best of the Nordstrom Anniversary Sale!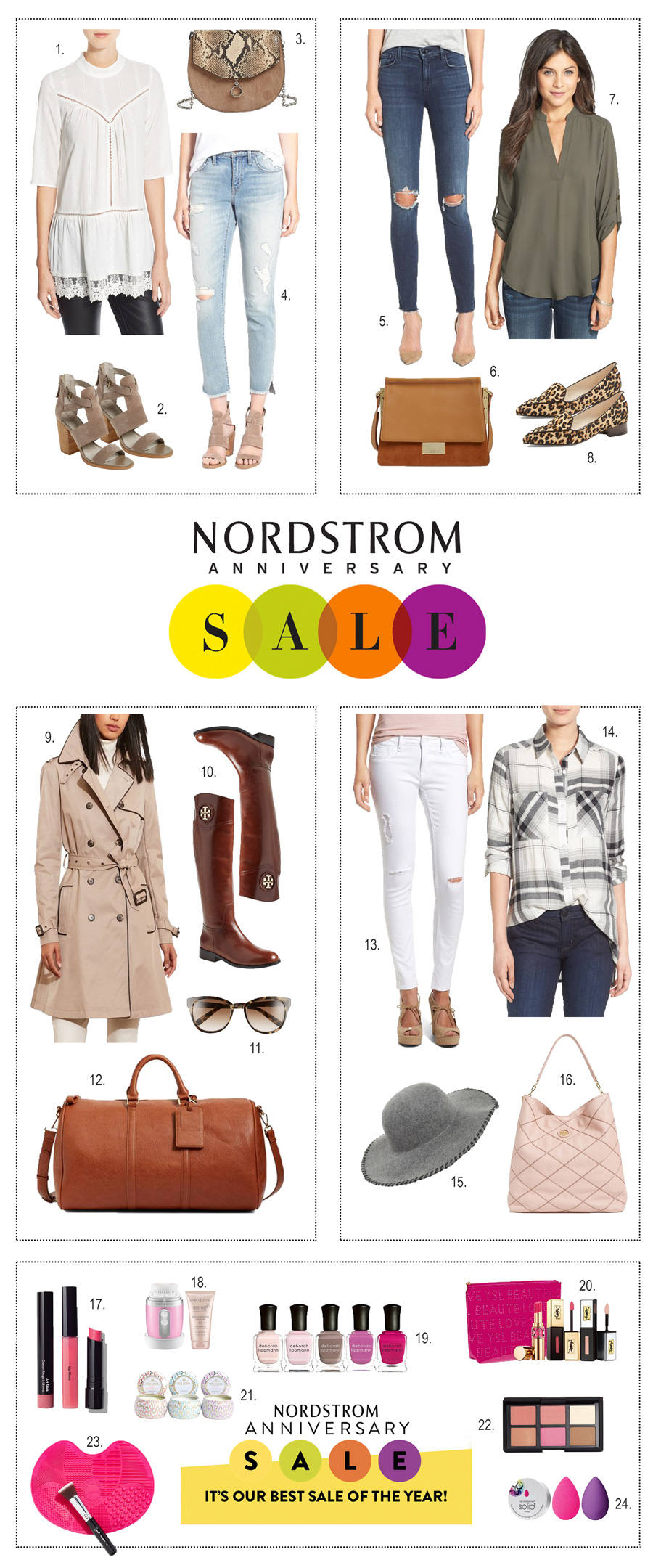 1. Lace Hem Blouse // 2. Block Heel Sandals // 3. Suede & Leather Handbag // 4. Boyfriend Jeans // 5. Skinny Jeans // 6. Leather Shoulder Bag // 7. V-Neck Blouse (comes in a tons of colors) // 8. Leopard Loafers // 9. Trench Coat // 10. Tory Burch Boots // 11. Sunglasses // 12. Weekender Bag // 13. White Jeans // 14. Plaid Shirt // 15. Grey Hat // 16. TB Leather Satchel // 17. Bobbi Brown Lip Set // 18. Clarsonic Mia FIT // 19. Nail Polish Set // 20. YSL Lipstick Set // 21. Candle Set // 22. Nars Cheek Palette // 23. Sigma Kabuki Brush Set // 24. Beauty Blender Set
The sale's early access for Nordstrom card holders is in effect now through the 21st of July. The sale is open publicly on the 22nd, but coveted items go very fast. So, getting a Nordstrom credit card or debit card may be an option if you shop there often and/or you'd like early access to their sale. I've already noticed some items starting to disappear, and they probably won't be restocked. Think Tory Burch handbags, Stewart Weitzman OTK boots, and Tory Burch riding boots.
When shopping such an amazing sale it can seem overwhelming because there are what seems like endless pages of items to look at. So, how to you make the best of the sale without spending countless hours sifting through their website? I try to stick to a budget, and to shop with the following season in mind. I also look at shoes and handbags, as these have great mark downs. I think about pieces that are versatile, and can be worn with a variety of outfits. I love this suede & leather handbag and this shoulder leather handbag. Both are modern, stylish, and resemble coveted Chloë handbags but without the hefty price tag.
---
FAVORITE SHOES
---
---
FAVORITE HANDBAGS
---

Right now, I'm also looking for a few nice blouses and jeans since the majority of my wardrobe has been maternity clothing. I'm ready to transition out of maternity into an in-between size until I'm able to get back into shape. I've also been eyeing a few dresses too!

---
FAVORITE BLOUSES
---
---
FAVORITE JEANS
---
---
FAVORITE DRESSES
---
When online shopping finding the perfect fit can also be a challenge. I love shopping Nordstrom because their item descriptions are usually spot on. They give you detailed information on whether items are true to size, fit small, or large. The most convenient part of shopping with Nordstrom is that they offer FREE SHIPPING & FREE RETURNS on everything (no minimum!). That makes returning items for that perfect fit extremely easy. You can shop in your pajamas while you binge watch say Game of Thrones (which I'm currently catching up on).
One last thing to look at are Nordstrom's beauty exclusives. Some of the values on high-end beauty items are simply too good to pass up. Everything from makeup sets & palettes, lipstick sets, and hair care products are either discounted or packaged for a huge volume discount.
---
FAVORITE BEAUTY EXCLUSIVES
---
Happy Shopping!