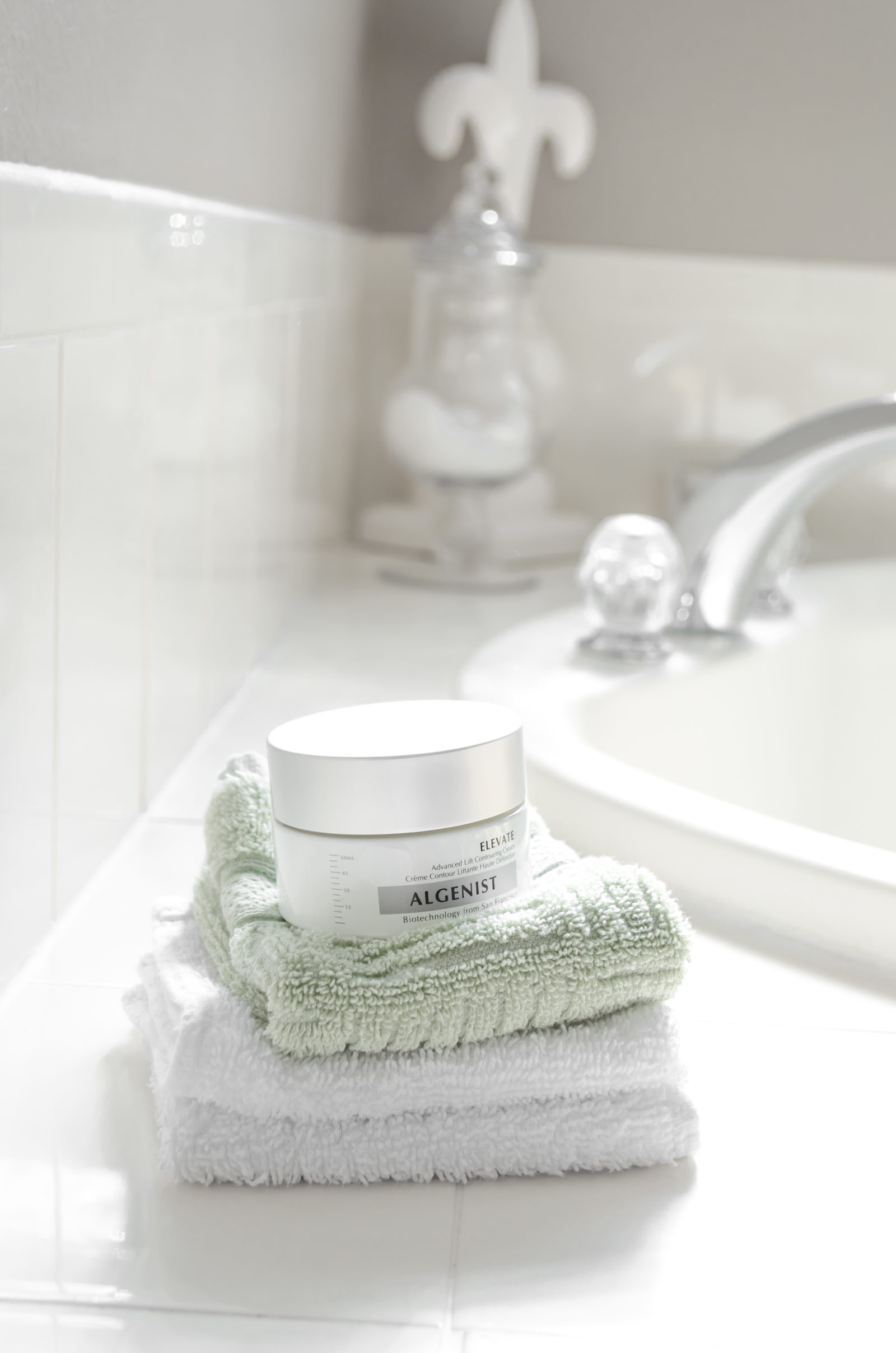 Algenist's ELEVATE Advanced Lift Contouring Cream is one of Algenist's newest skin care product releases.  What prompted me to give this a try was the 10 minutes to firm and 10 days to contour promise. That promise coupled with the fact that I'm just obsessed with trying new anti-aging products.  Algenist specifically claims that this "whipped sculpting cream is clinically proven to deliver an immediate, measurable increase in skin elasticity." It has Alguronic Acid and Tripeptide-2 combined in a glycoprotein matrix (this combination is said to "instantly help promote and reinforce a firmer skin structure, visibly minimize signs of aging, and rapidly tone skin with proven lifting effects"), gold and anti-aging micro algae (list to "help fortify skin texture and tone for a smoother, plump, more contoured appearance in 10 days").
Algenist is basing these findings on a study done of 100 participants. 20 of the participants used the contouring cream once a day, while the remaining 80 used it twice a day. Results after 10 minutes were a little lack luster in this study. 16% and 28% of participants showed signs of increased firmness and elasticity, respectively. However, the short and long-term results were much more impressive. With continued use participants saw more nourished skin with enhanced smoothness (94%) and softness (93%) after 10 days. After 28 days 81% and 83% reported results that the cream helped rebuild skin firmness and strengthen skin structure, respectively. I would have loved to see more information on their website about this study. I'm specifically interested in the test participants  ages and ethnicities to get a more detailed understanding of these results.

Click to Shop
This cream has a thick texture that moisturizes on contact without being  greasy or too heavy. It does have a slight perfume-like smell. It absorbs quickly, leaving skin feeling soft and hydrated. I was looking for signs of enhanced firmness within 10 minutes. Each time I applied the contour cream, while my skin felt softer, I didn't feel any noticeable firmness. Since I've haven't used this for the full 28 days I can't conclude whether it's claims to "rebuild skin's firmness…and strengthen skin structure" hold true for me. However, I can say I have noticed significant improvement in skin texture. My skin feels more soft and subtle to the touch. I'll give an update once I've used this for over a month.  My thoughts for now? This a very nourishing cream that would benefit those with dry skin, are looking for anti-aging benefits, and/or would like to improve skin texture.
A few notes on Algenist as a brand and their #StandFirm campaign. Founded in 2011 in Silicon Valley, this award-winning clinical skin care patented Alguronic Acid. It is Algenist's breakthrough ingredient discovery that "outperforms and transcends skin care boundaries". All Alienist products are non-comedogenic, hypoallergenic and free of paragons, sulfates, synthetic dyes, phthalates, GMOs and Triclosan. Algenist will donate 10% of proceeds to Free2Luv, a nonprofit dedicated to individuality, celebrating equality, spreading kindness and standing up to bullying, from May 15 through May 30, in support of their #StandFirm campaign.

From 5/15 to 5/30, any purchase with coupon code Free2Luv on Algenist.com will get 10% off and Algenist will donate 10% to Free2Luv.org. Help support Algenist's meaningful #StandFirm mission and Free2Luv by making a purchase before May 30th.
Algenist ELEVATE Advanced Lift Contouring Cream is available at www.algenist.com, in Ulta stores, on www.ulta.com, and at Sephora beginning in June 2017.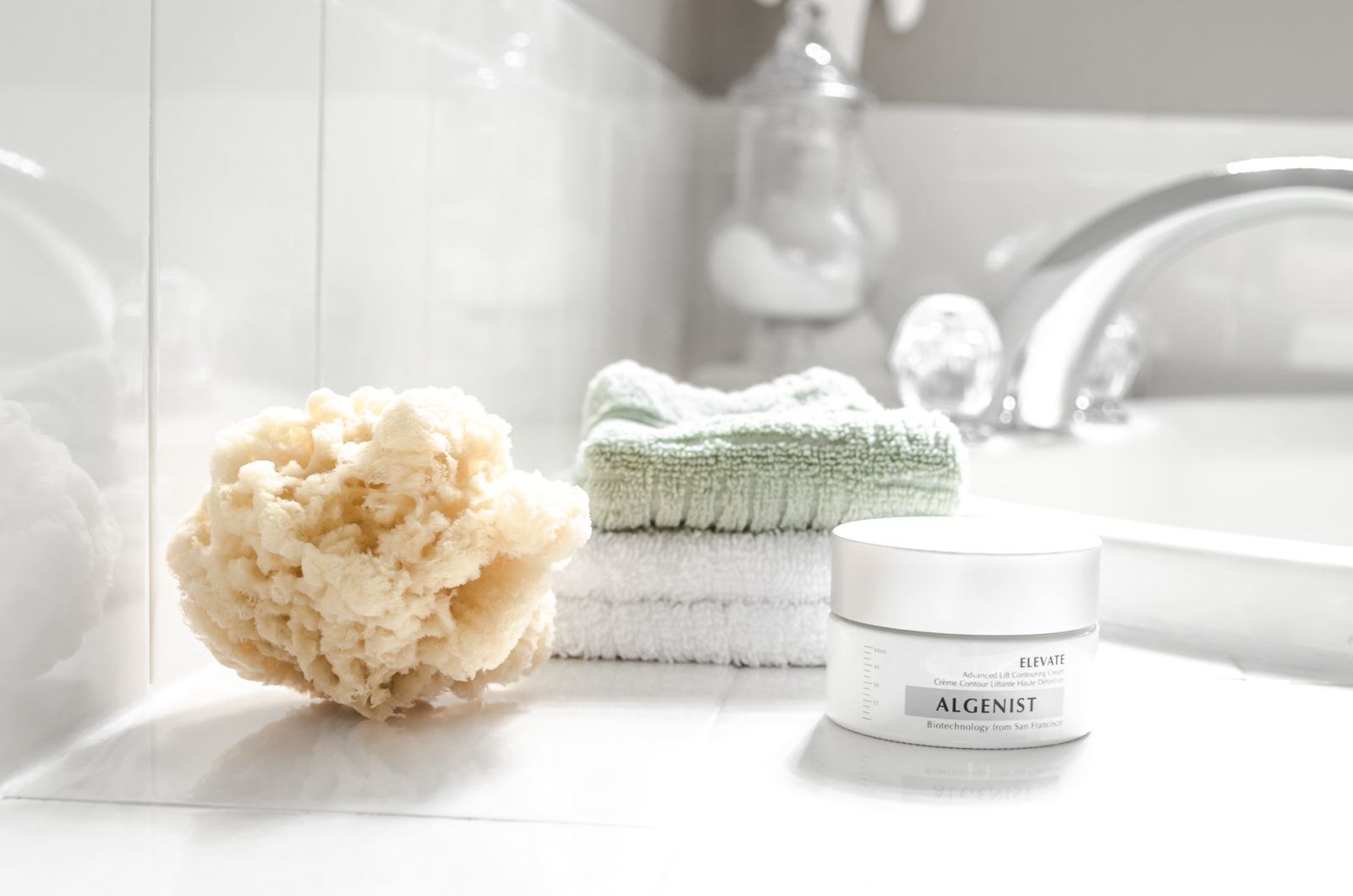 Algenist's ELEVATE Advanced Lift Contouring Cream